Throughout history, the sea of Cascais was the stage of maritime episodes – accidents, attacks, groundings – that resulted in shipwrecks that today constitute true underwater archaeological sites. In Cascais, underwater archaeologists have dedicated their time and effort to locate those sites, by drafting an archaeological map.
Underwater Archaeological Map of the Municipality of Cascais
An archaeological map is a research tool based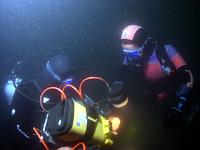 on the permanent, systematic and comprehensive gathering of information on the archaeological heritage of a specific context, whatever its original sources (oral, written, iconographic or other). An inventory such as this is an essential research tool for the definition of existences, strategies, policies and priorities; it is also a precious resource for the definition of issues to explore. The model proposed for the management of the Underwater Cultural Heritage of the Municipality of Cascais reaches the comple cycle of actions inherent to the practice of underwater archaeology: documentation, research, intervention, conservation and heritage protection, culminating in the publication of research findings.
Current knowledge of the Cascais coastline allows us to identify three archaeological sites with perfectly coherent and homogenous shipwreck contents. The site of Cabo Raso, is where the Florentine ship Great Princess of Tuscany shipwrecked in 1696; the site of S. Julião da BArra holds the presumed Nossa Senhora dos Márties, sunk in 1606; and finally, at bay, we find the location of the sinking of the Pedro Nunes, ex-Thermopylae, which took place in 1907.
This research also allowed for the establishment of areas featuring dispersed archaeological finds, the potential site of shipwrecks that, for several reasons, are yet to be identified and that demand further confirmation and study.
The municipality's activity in this area has been organized within this technical and scientific platform along the following strategical priorities and objectives:
The development of research tools combining all the information related to underwater cultural assets;
Adaptation of specific information within the inventory system InPatrimonium, contemplating up-to-date historical and archaological research.
The gathering of historical data, which was at the source of an initial percentual analysis of shipwreck occurrences along the coast of Cascais. Archaeological information is divided into artefacts gathered and isolated and complex finds left in situ;
Georeferencing of underwater archaeological sites using the Endovélico database (IGESPAR) as well as historical and oral accounts;
Evaluation and monitoring of the archaeological

site of the Clipper Pedro Nunes, ex-

Thermopylae

, which resulted in a low resolution arqueographic recording which will allow its monitoring in the future through direct visualisation, or indirectly through a successive geophysical recording.
The dissemination and development of public participation in the safekeeping of underwater cultural heritage:
Publication of Thermopylae – História do Navio Mais Veloz do Mundo, on this mythical ship's history, from its construction to its sinking along the bay of Cascais, and its rediscovery, one hundred years later.
Introduction to Underwater Archaeology for Teens, a workshop whose main objective was to educate teenagers to the importance of Underwater Cultural Heritage.